IPS_Innovative Prison Systems participated in the 27th Council of Europe Conference of Directors of Prison and Probation Services (CDPPS). The event gathered over 100 decision-makers and experts to discuss challenges and opportunities in the correctional field.
Promoting a community of shared values requires a significant level of harmonisation between its members. Sharing knowledge and best practices is an important step to ensure parity of the upheld values and establish the foundation for international cooperation.
Every year the Council for Penological Co-operation (PC-CP) of the Council of Europe gathers the directors of member-states prison and probation services to discuss pressing topics and refocus European efforts in the field. The 27th edition of this Conference took place in Seville, Spain, on June 21st and 22nd, 2022.
"Prisons and Probation: Sharing and Refocusing Knowledge and Practice" was the theme setting the stage for conversations about human resources, prison design, artificial intelligence, gender equality for women in prison and probation, and mental health.
Transforming prison and probation settings: Technology, Learning & Health
The transformation of today's prisons and their spaces was presented as a tool to contribute to inmates' rehabilitation and reintegration. Instead of harsh prison conditions and high walls, modern prisons and their staff should create human-centered spaces to help inmates' re-socialisation and guide them towards a life away from crime after release.
Prisons and probation's transformation includes initiatives for learning environments and inmate activity, namely access to kitchens, bakeries, living rooms, and places for workshops.
The role of digital technologies and Artificial Intelligence in these processes was also on the table. Projects represented at the event, like the "Smart Prison" in Finland, play a part in linking prisons to society and in creating new opportunities for prison work and learning.
The issue of Mental Health was another of the concerns addressed at the conference. This growing problem exacerbated by the COVID-19 pandemic needs new solutions that can mitigate the consequences of imprisonment on inmates' mental health and manage those who either have mental health issues when they're admitted or those who develop them.
In this discussion, the conflict between the prison environment for prisoners and what psychiatrists might recommend for individuals with mental health problems was addressed.

However, when developing recommendations for mental health guidance, the European setting has the dilemma of balancing its proposals. They can't be too detailed to apply to different jurisdictions. If they´re too broad, they might not be useful for practitioners.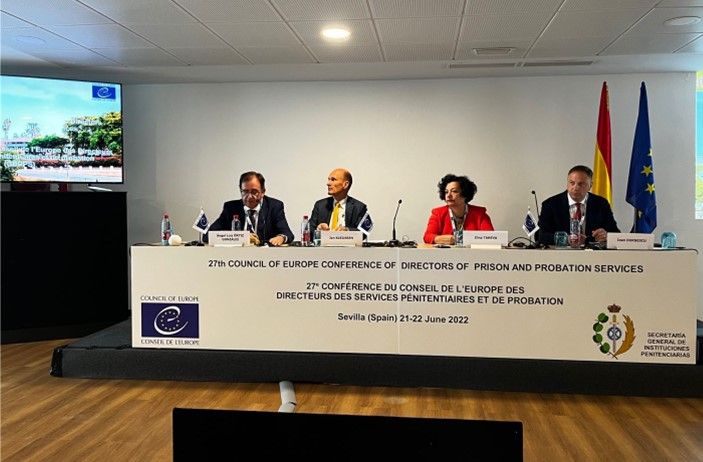 When it comes to staff selection, training, and professional development, difficulties present themselves right away in trying to find the right candidates. The challenges of the prison officer profession allied to the lack of attention given to the role by society decrease the pool of candidates. It was argued that the job must be made visible by making the career attractive, implementing modern working conditions, and having good leadership.
Retaining staff is another common problem for prison services, which once again brings attention to the working conditions, staff-wellbeing, and mental health, as well as the relation with and the support from management positions.
Another important topic on the table was the situation of women in the custody of the justice system. Given their statistically lower presence in prison and probation, they deal with environments and processes mainly thought for men.
According to the experts from Prison Reform International (PRI) at the meeting, there is a lack of programmes and services aimed at their specific needs. The discussion included examples such as the importance of providing support during the traumatic experience of being a mother in prison or probation.
Moreover, a greater cooperative effort among organisations was also discussed as part of an ongoing dialogue. This collective effort must include prison and probation services and NGOs as a third sector. With a holistic approach between these players, a consistent follow-up and support of offenders can achieve better results.
The event was also the stage for presenting the data collected for the 2021 edition of the Annual Council of Europe Penal Statistics SPACE II. Marcelo Aebi, Professor at the School of Criminal Sciences of the University of Lausanne and responsible for the annual SPACE I and II reports, shared considerations on the interpretation and practical use of the data provided by SPACE II (2021).
CEO Pedro das Neves represented IPS_Innovative Prison Systems, JUSTICE TRENDS Magazine, and the BSAFE Lab at this meeting of European prison and probation leaders. This event marks a decade of IPS' participation in these meetings, promoting dialogue toward fair, effective, and proportionate evidence-based responses to criminal justice issues and challenges across Europe.