Recognising how partnerships and cooperation are paramount across Europe, the EEA and Norway Grants gathered more than one hundred participants in a Thematic Seminar. The HOPE project could not have failed to participate in the gathering, illustrating the suitability of a holistic approach while focusing on region-specific needs and challenges.
European societies can only benefit from integrated and transnational cooperative approaches, especially at a time when they are experiencing some of their greatest challenges. 
Hence, the Iceland, Lichtenstein and Norway Grants (EEA and Norway Grants) brought together the stakeholders of their regional funded projects in an annual event to discuss cooperation and youth development.
These topics were emphasised in the EEA and Norway Grants 4th Regional Funds Annual Thematic Seminar and representatives of the HOPE project participated in the gathering. 
Ambitious projects are key to regional and societal progress in Europe
Several presentations in the scope of the Seminar highlighted how Europe-funded projects are key to achieving healthier and more balanced societies, as current challenges are shared by different countries across the continent.
Nora Mehsen, Sector Officer for the Grants, delivered the Seminar's keynote speech in which she highlighted how the response to the current pressing needs and challenges must be re-invented through a kind of work that cannot be confined to national borders or governmental bodies. She especially underlined the needs and challenges brought about by the COVID-19 pandemic and the Ukrainian crisis.
Such was especially reiterated for the security and inclusion fields, in which challenges are commonly shared, calling for a consorted action between different sectors and levels. Cooperation alone cannot be a tool for change, as best practices and interventions need to be tailored.
Similarly, the Fund Director, Gian Luca Bombarda, emphasised how cooperation is key, however, how by itself, it will not solve all challenges and problems. In fact, and as Lars Børresen, Senior Adviser of the Norwegian Ministry of Foreign Affairs and Grethe Haugøy, a policy expert on lifelong learning, employment and inclusion stressed "we need tailored answers to achieve sustained change". 
In this sense, understanding good practices was pinpointed as crucial, however, these must always be assessed as context-specific since their practical implementation must be adapted to fit local needs and challenges.
Meeting specific needs and challenges requires tailored responses
As several projects funded by the EEA and Norway Grants were presented throughout the Seminar, the need for a tailored approach to needs and challenges has been continually stressed. Integrated action must include the civil society and local community, listening closely to their needs and taking advantage of their strengths to achieve sustained interventions, impacts and changes. However, for such interventions to be fully comprehended, a solid evaluation base is required. Hence, evaluation was a critical suggestion in all the talks.
To close the event – which was held in a hybrid format out of Brussels on December 13th and 14th, 2022 – all speakers and participants agreed that cross-border and cross-regional initiatives are paramount to creating better, fairer, and safer European societies.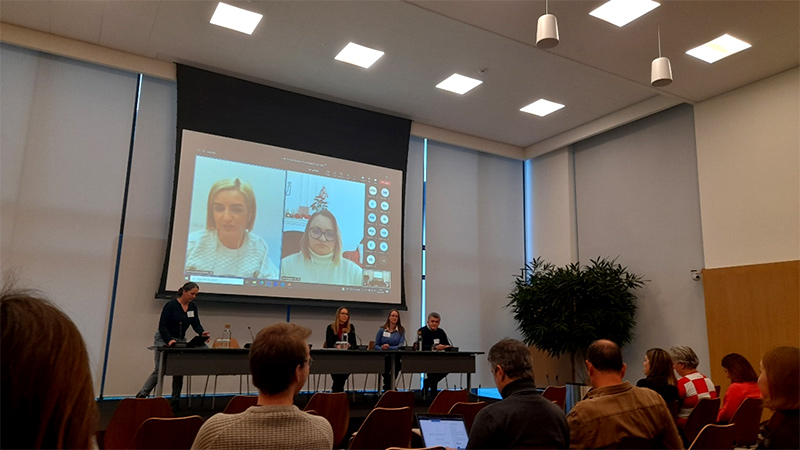 HOPE project in line with the approach and objectives advocated by the EEA Norway Grants
Representatives from the HOPE – Holistic Radicalisation Prevention Initiative – got improved insights from this event on how to better tailor the project results to achieve wide and sustained impact. 
The HOPE project is striving to create an active and dynamic learning Hub on radicalisation by developing a European network to support continuous knowledge sharing and cooperation among countries and professionals, especially focusing on the Balkan region. 
Staff from prison, probation and communitarian settings are now connected, aware and skilled on radicalisation and violent extremism prevention and intervention (P/CVE).
By developing tailor-made and adapted training courses on P/CVE, different professionals can learn from each other by being provided the right working tools, ensuring long-term sustainability of strategies, interventions, and outcomes. 
Therefore, only through concerted cooperation processes, following a multi-sectoral approach, linking different levels of professionals from different sectors, can P/CVE efforts be better developed, consequently having better practical results!
Keep up to date with the HOPE project developments at www.hope-radproject.eu.