Over 50 criminal justice experts and practitioners from Europe and North America participated in an International Conference in Lisbon. The event discussed the progress and results of an initiative focusing on training justice professionals to achieve a comprehensive P/CVE strategy.
The offenders' journey through the justice system, from accusation to release, is a process involving multiple agencies and information transfer points. When dealing with radicalised or vulnerable to radicalisation individuals, these transitions are even more significant.
Practitioners involved in the judicial system must have complimentary training that helps identify these radicalised individuals early in the proceedings. Such training also provides competencies that ensure adequate follow-up throughout the system. Moreover, it is essential that the assistance given during the prison term is reproduced in the community setting, when serving alternative measures or after release.
Developing and administering this multi-level and multi-agency training is the goal of the R4JUST project – Radicalisation Prevention Competences' Development Programme for Justice Professionals. In the scope of this transnational initiative, IPS_Innovative Prison Systems held the R4JUST International Conference in Lisbon on July 18th, 2022.
The event highlighted the importance of multi-level training and successful risk screening and assessment for effective P/CVE efforts. The consortium shared the project's main results and invited several key expert speakers to explore fundamental radicalisation prevention and countering topics.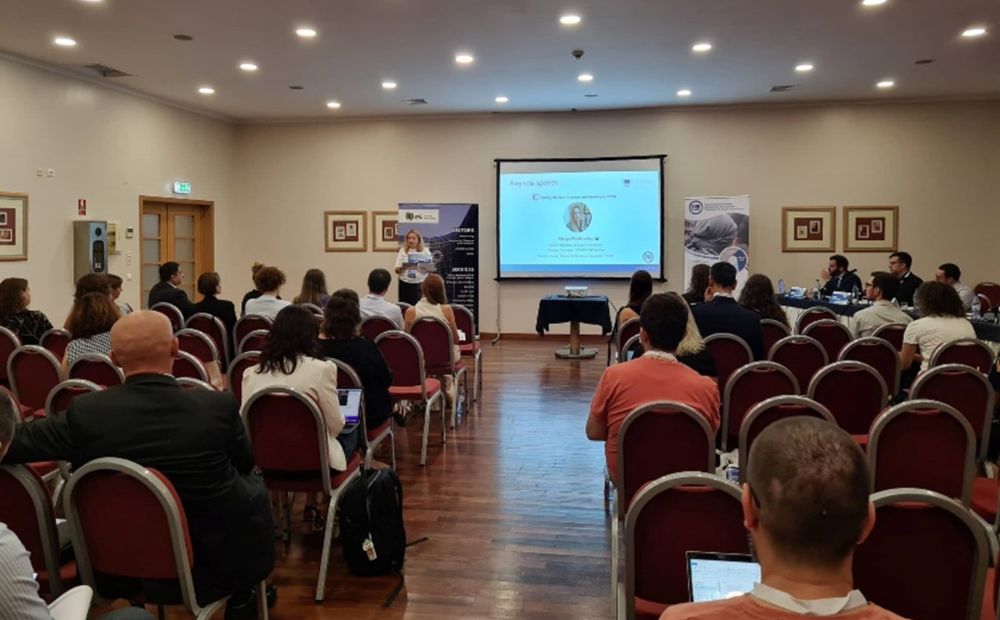 Pedro Liberado, Chief Researcher Officer at IPS_Innovative Prison Systems, briefly explored the project and the Radicalisation Risk Assessment in Prison (RRAP) instrument developed in the R2PRIS project. The battery of instruments consists of three tools, namely the FBOG (Frontline Behavioural Observational Guidelines), the HV (Helicopter View), and the IRS (Individual Risk Screening), aimed at frontline staff, prison administrators and technical staff, respectively.
Through these tools, practitioners can better work to prevent, identify and tackle radicalisation and violent extremism in a multi-level, cross-sectoral and joint effort between different professionals and agencies.

To become proficient in using these tools, tailored and comprehensive training was identified as a pressing need for different professionals within the criminal justice sector.

During the panel with presentations from Álvaro Vicente, researcher and Associate Professor at the Real Instituto Elcano in Spain, Ondřej Kolář, Professor at the Police Academy of Czech Republic, and Pedro Liberado, Chief Researcher Officer at IPS_Innovative Prison Systems, it became apparent how critical informed and grounded risk assessment procedures are. The prison staff training offers in Europe were also explored and discussed.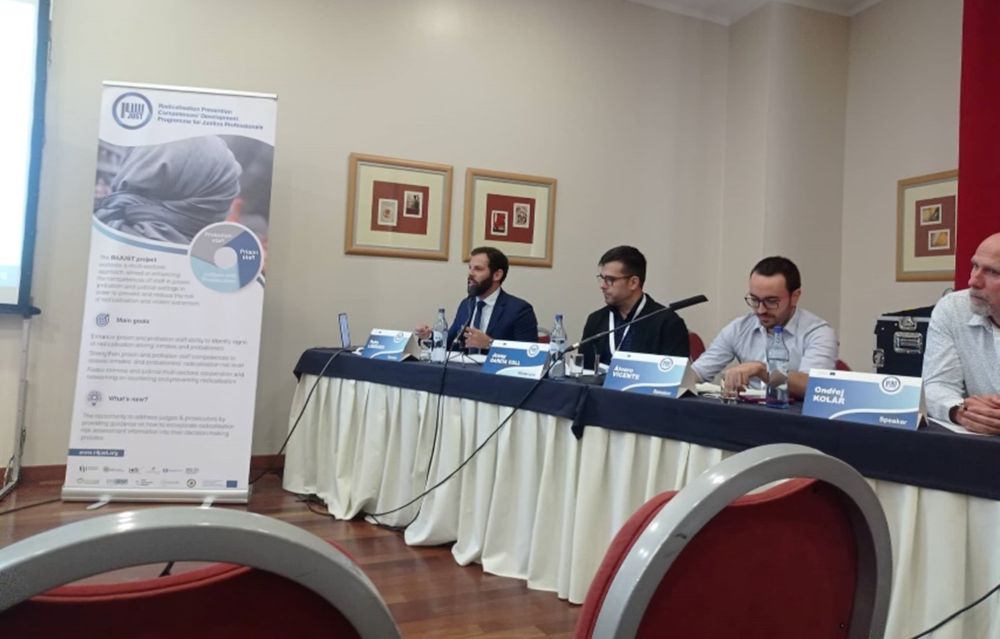 David Hansen, a Professor at the University College of the Norwegian Correctional Service (KRUS) presented the Helicopter View in greater detail and provided insight into the Norwegian experience with the instrument.
Keeping in mind R4JUST's main goal to deliver tailored and comprehensive training, the project shared the main training results, quantifying the considerable impact of this transnational initiative across the project partners' countries. Vânia Sampaio, Consultant & Researcher at IPS_Innovative Prison Systems, detailed the initiative that successfully trained over 200 prison staff in Portugal, Romania, Poland, Germany and Italy.
The training actions demonstrated significant positive results. Knowledge of radicalisation, P/CVE mechanisms, efforts, and risk assessment procedures increased considerably among the trainees, as shown in the data from the professionals' evaluation.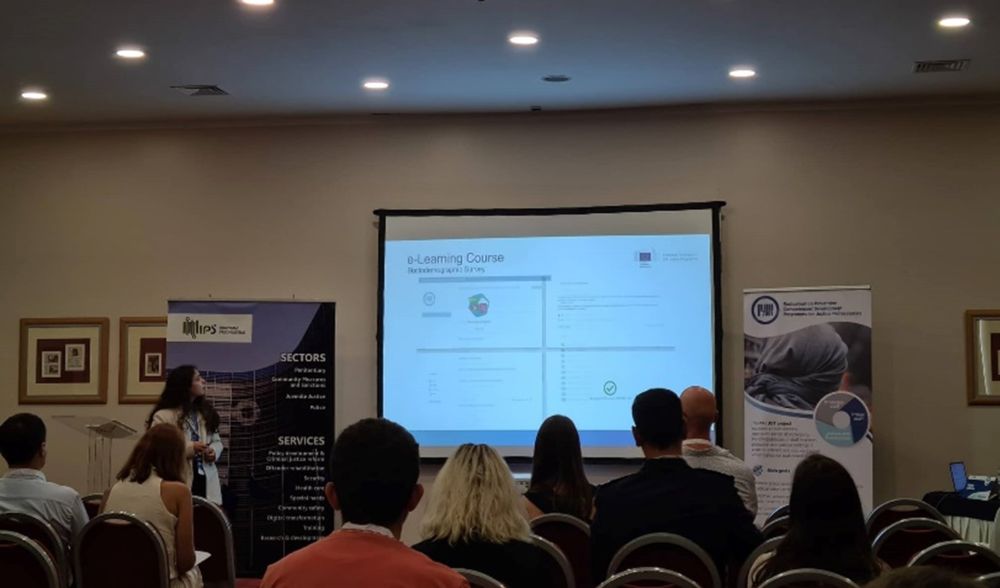 The need for a prison-exit continuum of intervention was emphasised in another panel, with presentations from Vítor Costa, Associate Professor and researcher at the University of Beira Interior in Portugal, Marian Tataru from the Centre for Penitentiary Studies of the West University of Timisoara in Romania and David Hansen from KRUS.
These experts highlighted how rehabilitative efforts must be informed and guided by risk assessment procedures, as they help to adapt and tailor the level of intervention when used in different stages of criminal justice. They should be used as a guide for sentencing, especially during the sentence period, whether in custodial or non-custodial settings.
In fact, it was argued that risk assessment should start as early as possible, and so should proper intervention. David Hansen brought the Norwegian prison system experience to the table. He emphasised that for successful disengagement efforts, the specific radicalisation process should first be understood.
In turn, this understanding allows for humane and tailored work, favouring personal and motivational schemes of intervention.
Ahead of the shared experiences, the experts highlighted that holistic training should be prioritised in future steps, going beyond risk assessment and information on radicalisation. Therefore, frontline professionals should be trained in the skills and attitudes for humane and comprehensive work in P/CVE.
To reinforce the need to establish multi-agency cooperation for effective P/CVE work, Joana Apóstolo and Raquel Venâncio, International Judicial Cooperation specialists at IPS_Innovative Prison Systems, and Sigrid Raets, a researcher at the Institute for International Research on Criminal Policy at Ghent University, in Belgium, shared experiences, best practices and recommendations to enhance cooperation.
The end goal is to establish a holistic approach to P/CVE, where information and trust flow easily. Different European examples shared showed that despite specific national realities, there is a general concern to better train frontline professionals on radicalisation. Ensuring the continuity of interventive efforts throughout the different stages of the criminal justice system work is also paramount.
The expert speakers concluded that increased cooperation promotes a smoother transition from prison to the community, easing resettlement and reintegration processes hence promoting the prison-exit continuum.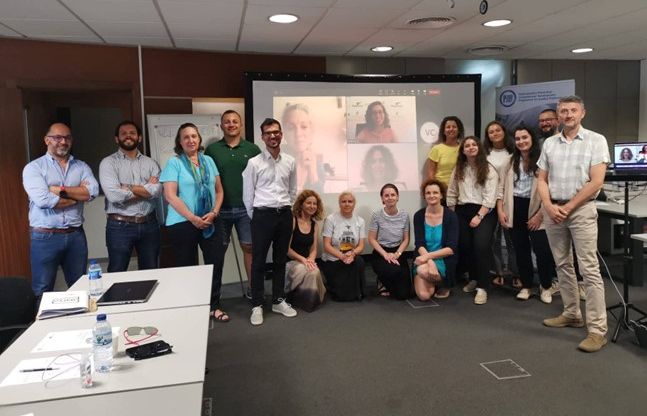 The R4JUST project will continue delivering the planned training courses and working to establish its achievements as a solid foundation to prevent and reduce the risk of radicalisation and violent extremism across justice systems.
Know more about this project

Developing a European framework for disengagement and reintegration of extremist offenders and radicalised individuals in prison