We're now a step closer to improving, harmonising and recognising prison officers' training across the EU. Close to 100 participants, including leaders of national prison services, prison governors, prison officers, heads of training academies, and researchers gathered to learn more about and discuss issues around the education and training of European prison officers.
The role of prison officers (POs) has become increasingly complex, with the rise of inmate populations and a growing recognition of the importance of the interaction between prison inmates and staff. POs are responsible for security and maintaining the order in prison facilities, while also supporting the rehabilitation and well-being of inmates with diverse backgrounds, many suffering from mental conditions.1
As prison officers are tasked with balancing humanity, compassion, and authority, it is essential that they are equipped with the educational background and also the skills and knowledge needed to perform their duties effectively.2
However, despite the crucial nature of their role, the education and training received by POs have been overlooked for many years. This has resulted in training gaps and difficulties for POs in adapting to the changing needs of prison systems.
Furthermore, the mobility of these professionals across Europe is also limited due to varying entry requirements and diverse training features and curricula from country to country. The lack of transnational training recognition on a European scale makes it difficult for prison officers to transfer their skills and knowledge from one country to another.
This patchwork of entry requirements and training features highlighted the need for a comprehensive approach to initial and continuous vocational education and training for prison officers at a European level.
Presenting a Comprehensive and Evidence-Based Solution
The PO21 Project – European Prison Officers for the 21st Century aimed to address the challenges linked to the education and training disparities of prison officers across European countries. Ultimately the initiative has contributed to enhance the education and training of prison officers in the region.

It sought to identify existing and emerging needs of these professionals, especially concerning their needs, and design vocational education and training adapted to the identified needs. Additionally, the PO21 project sought to strengthen the exchange of knowledge and best practices, and promote qualification standards for work-based learning.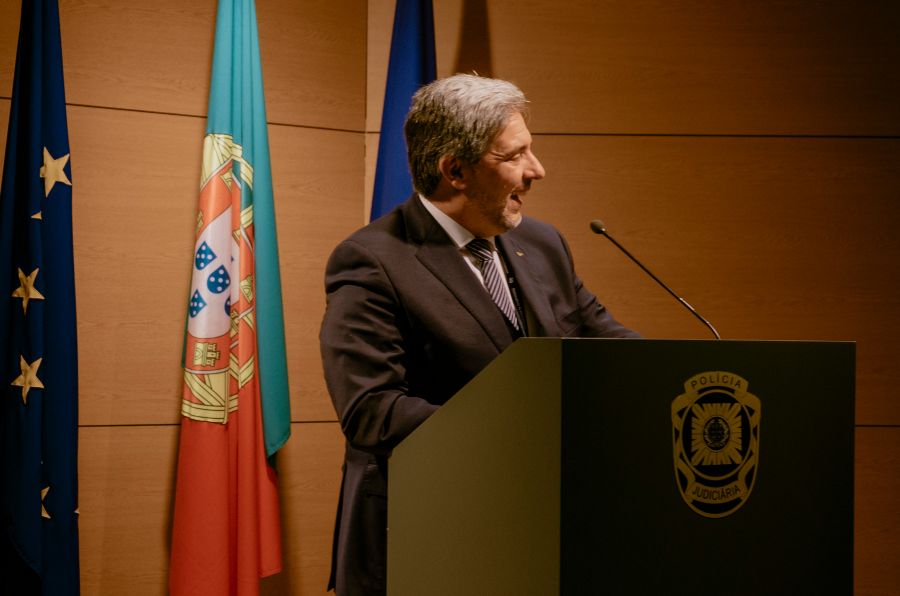 At the end of the three-year project, the initiative gathered an impressive host of stakeholders from thirteen countries to present its results. The PO21 Final Conference in Lisbon brought together representative from fifteen Prison Services, and as many Penitentiary Training Academies, two Trade Unions and the European Federation of Unions, two sectorial organisations representing more than fifty prison and probation administrations, two international multilateral organisations, and three universities.
PO21 project delivered impactful and transformative tools
The results of the PO21 project were presented in a panel discussion moderated by Dr Vitor Costa from the BSAFE LAB of the Beira Interior University, the project's promoter.

Policy Recommendations

Mr Adrian Neagoe from the Romanian National Union of Prison Workers (SNPP) shared the Policy Recommendations for Re-thinking Prison Officer's Training. The document suggests more than 40 recommendations to improve and foster POs' training and professional mobility throughout Europe. At the same time, each recommendation values the profession and the professional well-being of prison officers.
The recommendations resulted from extensive research on the recruitment and training differences between EU jurisdictions, and POs' current and future training needs. The research results are detailed throughout the document, leading to the proposed recruiting and training guidelines.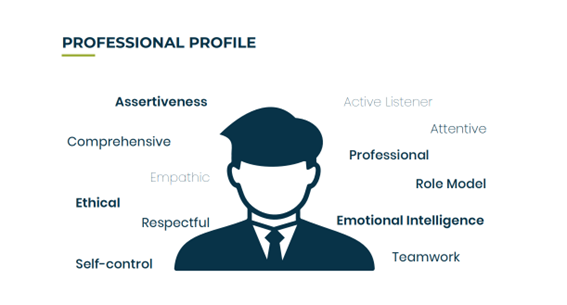 PO21 Training Programme

The developed VET Training Curricula was presented by Dr Carolina Pereira, IPS' Correctional Staff Training & Development Portfolio Coordinator. The Prison Officer Training Programme proposal presents a comprehensive and flexible Vocational Educational Training course, consisting of 28 modules totalling 1254 hours of training.

The course is adequate to be used as a complete initial training course for new recruits, but its flexible structure also allows for specific modules to be used for continuous training or integrated into existing training plans, as well as leaving room to be complemented by additional modules.
The Training Programme proposal was developed based on a comprehensive needs analysis. This included DACUM (Developing A Curriculum) sessions in Germany, Portugal, and Romania, a training needs analysis survey for prison officers, and reports from EU countries regarding their prison officers' training features.

The proposal was crafted through a collaborative effort by the project technical team, and finetuned in workshops with 72 participants, including prison officers, directors, educators, trainers, and psychologists. The modules were compiled by expert prison officer trainers.
Critical Incidents Technique – Application and Cases
Mr. Dorin Muresan, Chair of the Training and Development Network and representative of the ICPA introduced the developed Guide for the application of the "Critical Incidents Technique" in prison officer's training.
Critical Incidents training is based on scenarios, that often present dilemmas in which participants can choose different courses of action, leading to a structured internal reflection. In prison officers' training, this technique can prepare professionals to deal with complex situations, fostering reflective and critical thinking and, at the same time, promoting awareness to comply with the legal framework and internal procedures.

The PO21 project has designed 10 cases based on the Critical Incidents Technique. These include place the officers in diverse situations, such as "Freezing before an Emergency", dealing with "Blackmail with medicine", or pondering about themes like "Friendship and Professionalism" and "Following the rules or doing the right thing?".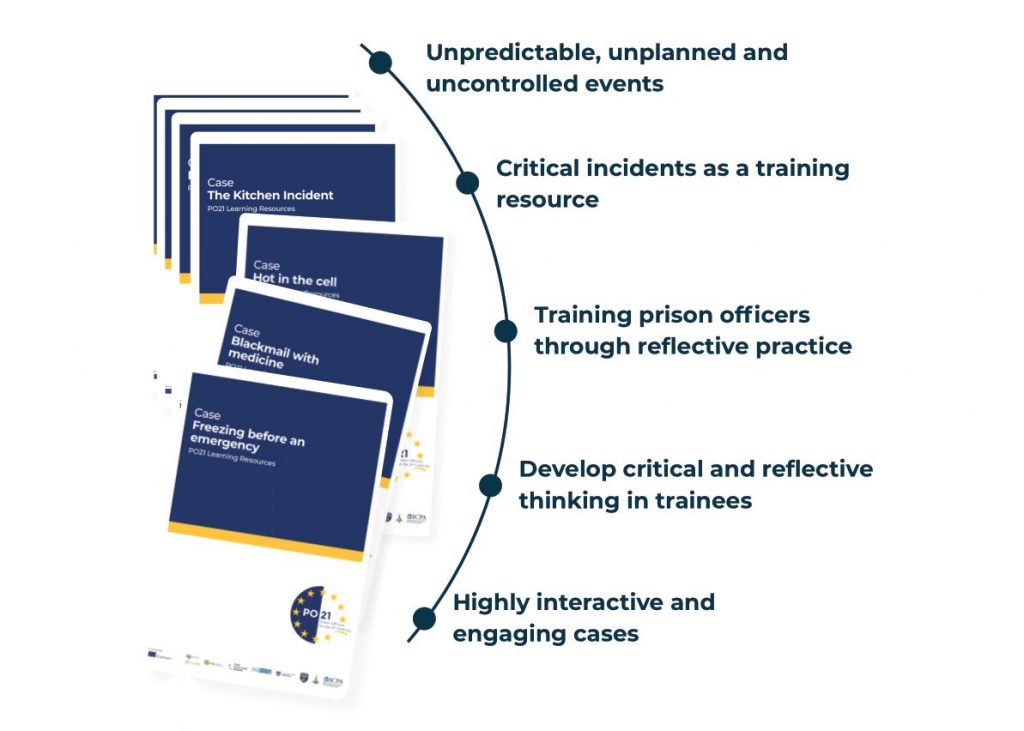 PO21 Library
The PO21 Project also created a knowledge and learning resources repository to support prison officers' training and development. The more than 100 resources cover 23 topics, including aging/geriatrics, difficult inmates, dynamic security, human rights, mental health, professional ethics, and women in prison.

Each topic has several resources, including training manuals, videos, e-learning, and books, among others. The repository can be used by academics, teachers, researchers, or anyone interested in these topics and can be expanded with additional resources.

Discussing training harmonisation, recognition, and certification throughout Europe
The conference was an opportunity to open the dialog between experts, trainers and the international stakeholders.

A roundtable moderated by Mr Tiago Leitão (IPS_Innovative Prison Systems) opened the discussion between partners and experts, including Dr. Jorge Monteiro from the Portuguese Directorate-General for Reintegration and Prison Services. Ms. Kathleen Van De Vijver from the Belgian Prison Service, Dr Carlos Sousa, President of SNCGP (Trade Union of Prison Officers), Mr Adrian Neagoe (SNPP), and Mr Lars Dietze from the Bremen Ministry of Justice.

In a Panel discussing the path toward a European prison officer, moderated by Pedro das Neves, the event participants were able to listen to insightful contributions from Ms. Nadya Radkovska, Chairperson of the PC-CP of the Council of Europe, Mr. Torben Adams, the International Program Coordinator of the UNODC, Mr. Gustav Talving, Executive Director of EUROPRIS (European Organisation of Prison Services), and Mr Dorin Muresan (Chair, ICPA Training and Development Network).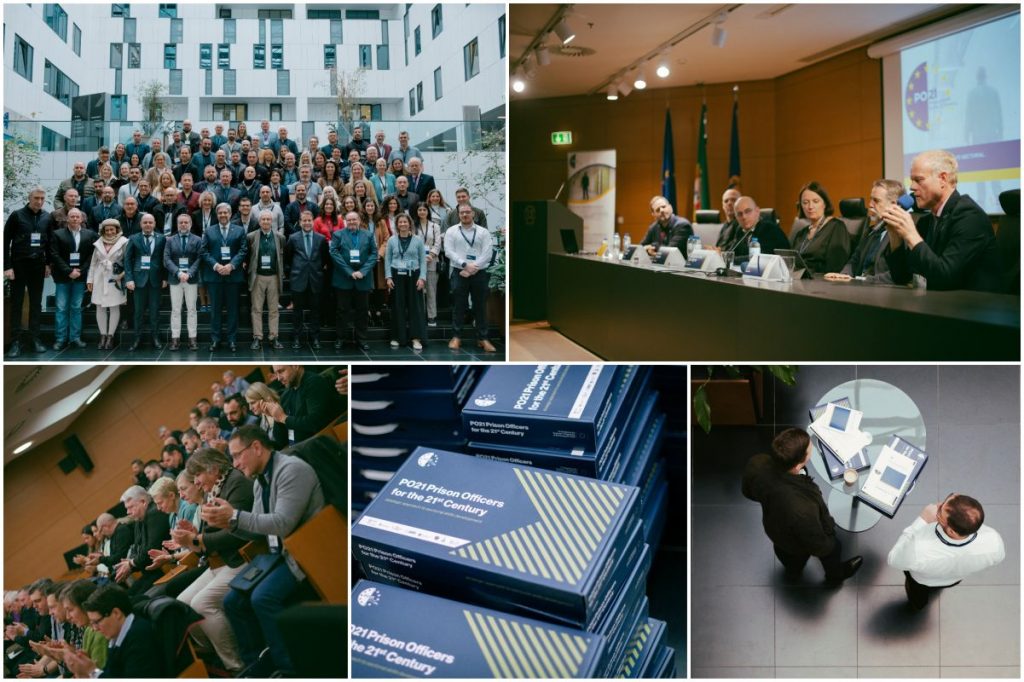 Furthermore, the event hosted a discussion on training recognition and certification between prison staff training organisations, including EPTA (European Prison Training Academies), KRUS (University College of Norwegian Correctional Service), ENAP (National School of Penitentiary Administration), the Unlocked Graduates Programme, and the Deputy Director of Training and Research from the Justice Department of Catalonia.

Building upon the consensus achieved in this event, and the results from the PO21 – Prison Officers for the 21st Century, these European partners we will continue to work towards providing the holistic training curricula that the role's social significance deserves.

References

1 Ryan, C., Brennan, F., McNeill, S. & O'Keeffe, R. (2021). Prison Officer Training and Education: A Scoping Review of the Published Literature, Journal of Criminal Justice Education, DOI: 10.1080/10511253.2021.1958881

2 Morrison, K. & Maycock, M. (2021). Becoming a Prison Officer: An Analysis of the Early Development of Prison Officer Cultures. The Howard Journal, V. 60 No 1, pp. 3-24
Learn more about this project
The PO21 project is led by
BSAFE LAB – Law Enforcement, Justice and Public Safety Research and Technology Transfer Lab
, Beira Interior University (Portugal) in partnership with IPS_Innovative Prison Systems (Portugal), the
Bremen Senate of Justice and Constitution
(Germany), the
Directorate-General for Reintegration and Prison Services
(DGRSP, Portugal), the
Federal Public Service Justice
(Belgium), the
National Trade Union of Prison Workers
(SNPP, Romania), the
National Trade Union of the Prison Guard Corps
(SNCGP, Portugal), and the
Stichting Foundation ICPA Office in Europe
(The Netherlands).
For further information about this project, please visit the PO21 website.
---

A flexible, multidisciplinary and transnational VET model for the PROBATION services and practitioners